Life in Los Angeles -
My friend Rich White asked me to write a bit about what life is like living in Los Angeles, from the perspective of a tobacco smoker, a musician, and a resident. I moved here from my hometown of Chicago a few years back with the intention of breaking into the music industry with my band FireBug. To be honest, smoking was never an issue that I really gave much thought to, because it was basically a non-issue; it was just something that, as a musician, I was used to being around, as well as something that I enjoyed partaking in, especially when writing. After moving to California though, I began to realize that smoking was fast becoming a political, as well as an economic, issue. Arriving in California post-ban, I began to notice the crowds of people standing outside of the clubs, rather than inside the clubs. The clubs that ignored the ban never had this issue and they were always hopping as a result; there was no mass exodus from the venue(s) as soon as the known band with all of the friends hit its last chord; no, people hung around to check out the new and unknown bands, rather than bolting out to the nearest private party. Concurrently, venues with large and accommodating smoking patios still are the clubs with the most regular customers who are willing to hang around to check out a new act. In Los Angeles, you see, patios are somewhat of a more workable solution (although prohibition still hurts), due to the fact that the weather is mostly temperate and it rarely ever rains. With that said, there are some venues that are making it increasingly difficult to draw a crowd. In the last few years, I have witnessed an increase in vitriolic hatred towards smokers, due in large part to the never ending barrage of anti-smoking adverts that we are subjected to almost daily, thanks in large part to the voter-approved prop 99. [more information on prop 99
here
]
The advent of the citizen bully….and the control freak…
Seemingly almost overnight, there is a new class of bullies in town who think that it's within their every right to harass anyone who smokes; like the bouncer who goes out of his way to yell at me when I'm outside smoking before going on stage to perform ("the smoke might wander in through the door"); this particular place is no longer home to many of the local bands that were beginning to play there, as no one wants to go there. Other venues, with more accommodating space and staff, have picked up where others have lost customers. Oh, and then there's the doorman with the rather Stasi like demeanor who works at a rather well known venue downtown who thinks that he personally owns the city sidewalk, and thus has taken it upon himself to self-aggrandize his own "authority" by berating me (and other smokers) for smoking out on a city sidewalk; a city sidewalk, mind you, that is fit for rats and skid-row, but not for smokers. …Twas the most stressful Patti Smith concert that I had ever been to, though she rocked. I vowed to never patronize that venue again, and I haven't been back since. Oh, and what to say about the guy who sat across from me and my boyfriend out on an outdoor patio at a local restaurant (it's byob!) that we frequent. You see, even though we were outside, and seated nowhere near the man, it was simply just too much for this creature to even SEE someone smoke a cigarette. Did I mention that in addition to being nowhere near him, my little plume of smoke was going in the opposite direction? He felt that he had the moral superiority, being a non-smoker, to tell me to put my cigarette out. I did not. He, the poor and feeble minded creature, was simply stunned by my resistance. I am not an unreasonable person you see, if my smoke really was going in his direction, the solution would simply have been to move. Unfortunately, there are no easy solutions when one is dealing with rabid, anti-smoker bullies. Of course, when this man got up with his significant other to exit the premises, he proceeded to rev up his old Volkswagen that gassed us all into oblivion with diesel fumes; everyone on the patio began gasping, for real this time. Go figure.
The latest fad…not having to see a smoker as an excuse for outdoor bans, the misappropriation of funds, the misalignment of priorities when it comes to public safety, and the danger to local businesses…
This rather new phenomenon of not having to see a smoker has begun to take hold at an increasingly alarming rate. We now have politicians who use this very premise as a reason to ban outdoor smoking, even though it has absolutely NOTHING to do with health or public safety. When I leave my place of residence daily, I (along with my boyfriend and smoking neighbors) am now treated to the pervasive and over-bearing no smoking signs that have recently been placed outside in the park (which everyone has decidedly chosen to ignore, much to my delight at giving the finger to the "man") which sits directly in front of my house. The city, of course, had money for the placement of no-smoking signs, whilst at the same time telling our neighborhood watch coordinator that it did not have enough money to post neighborhood watch signs. I suppose that the message of anti-smoking is more of a pressing issue than actual public safety. Priorities are priorities you know, especially in this time of recession, furloughs of public safety personnel, and empty storefronts. As a result of the recent onslaught of outdoor smoking bans, there are now many towns in and around the Los Angeles area that I and many of my friends no longer frequent; Burbank, Santa Monica, and Beverly Hills are but a few. This in turn means that many of us Angelinos are not spending money to support many local businesses, such as restaurants and bars; and when less people spend money at local restaurants and bars, that also means that less money is spent at local retail shops as well, as is evidenced by the many empty store fronts that now litter the Southland.
Bullying backed by the law…..
A friend of mine recently received a $250 ticket for smoking outside on a sidewalk in Burbank. He was standing outside of his work, presumably following the "law" by not smoking inside, when he was approached by not one, but TWO police officers on bicycles. Failure to pay the fine in Burbank results in a warrant for your arrest. At one local neighborhood watch meeting that I attended, our local L.A. City Councilman was more interested in berating smokers for sitting on park benches than on discussing the recent onslaught of robberies and hate crimes in my neighborhood. That moment, I had an epiphany of sorts.
Hatred towards smokers becomes "acceptable"……
I then realized how deep the hatred went, and how screwed I am as a smoker in California. I realized that what once was merely a tiny seed of hate, to be brushed off as a mere nuisance, had now grown into something that had the potential to morph into a full-blown hate campaign, backed by our government and our taxes. Suddenly, my previous comparison to the Stasi doorman above seems almost reasonable. For example, this is a poster on the side of the road that I encountered in Hollywood on my way back from band rehearsal recently: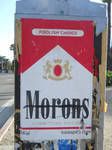 This, having been the second time that I have come across such an advert (the last one encompassed the entire wall of a building), has me thinking that it can't be long until hate crimes against smokers follow. Now the anti-smokers think that it's ok to literally berate smokers in public, unchallenged.
So, are people still smoking in Southern California?
The irony is that I have never seen so many smoke shops open in such close proximity to one another as I have witnessed in the last couple of years. This would seem to imply that, despite anti-smoking statistics, people are now smoking MORE, not less. The real irony here, of course, is that the more anti-smokers push on with increased draconian legislation, the more that people seem to want to smoke. Ah, but what would I know…I'm only someone who actually lives in the city.
Is there really "public support" for such extreme measures, such as outdoor bans and smoke-free housing?
If you read the press release of any grant-seeking anti-smoking "non-profit", one would be greeted with a resolute "yes"; However, if one were to ask the opinions of people who live in the real world, the answer would emphatically be "no". A few months back, I decided to embark upon my own little survey (to see if my suspicions had merit) when I walked all around several neighborhoods in Los Angeles with fliers about the proposed outdoor smoking ban (which passed) in L.A.. What I encountered shocked me: about 90% of the people that I approached thought that the anti-smoking movement had gone too far, many of whom were angry with the new proposed restrictions; and when I say angry, I mean angry; I even got yelled at by some people who thought that I was an anti-smoker, and one guy even grabbed the flier out of my hand and said "give me that, I'll make copies and make sure that all of my friends know about this" (this was in hipster Silverlake, btw). I even encountered a couple of anti-smokers (that owned upscale businesses) who themselves thought that an outdoor ban was going too far, "Well, I certainly don't have anything against smokers…or businesses that choose to cater to smokers…" was a response that I got from a few people whom I would have deemed to be "pompous" in nature and societal stature; much to my surprise, they were quite reasonable folks without the slightest hint of pomposity about them; which is not to say that those types don't exist here in California, what has become quite obvious to me though, is that they comprise a very small minority that seems to be mostly confined to grant-seekers, politicians in ivory towers, insecure control freaks, and hypochondriacs.
There is hope for peace…
Alas, there is hope: most people in California are decent people who have no desire to bully smokers, or anyone for that matter. I know this because I actually got out of my house and off of my couch and talked to some of them.
California is a beautiful place with many problems, which include a soaring deficit, one of the highest un-employment rates in the country outside of Detroit, an un-affordable housing market, and an infrastructure that is crumbling. Still, there are many things that I love about California, like its coast, its mountains, its deserts (a soulful place of inspiration for me), its creative people in the film and music world, its diversity, etc... It has however, become a very stressful place to live if you are just a person or a business owner just trying to go along making their way in life. We'll see what happens in November here. Maybe there will be some real change at the ballot box, maybe there won't. If you decide to come to California for a visit and you're a smoker, just know the places to avoid and plan accordingly. Also know that it is not personal, as most of us here are quite reasonable and tolerant of others' lifestyle choices, it's just that we're currently ruled by fanatics. Look at the bright side though, there's a ballot measure to legalize recreational marijuana that voters are going to vote on this November and that can only be good for the rest of us smokers, as we're all going to have to band together to find/demand a place to smoke; and if the ballot measure fails this time around, maybe we'll see a new coalition formed that represents freedom of choice for all